How to Advertise on Joe Pags | 888-449-2526
Posted On
Have Joe Read Your Ad!
The Joe Pags Show is a daily news/talk show heard from 5-8pm Central from Flagship WOAI in San Antonio and broadcast on over 160 affiliate stations nationwide, as of August, 2022.
"I love entertaining and am thrilled to bring my unique brand of talk radio to a wider audience with Compass Media Networks," says Joe. Joe Pags is ranked #10 in the 2022 Talkers Magazine "Heavy Hundred"!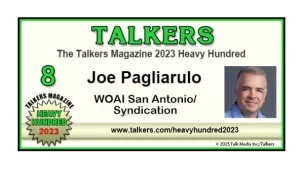 Let Ho Hum Productions handle your advertising needs. 888-449-2526.
We can purchase remnant ad time or buy across multiple radio stations to help lower your ad spend substantially. We will save you big money on your advertising dollar! We can also get remnant ad rates for some markets to save even more money. Call 888-449-2526!
Heard 6-9 PM ET, The Joe Pags Show is a winner. Along with his syndicated daily show, Pags hosts Premiere's nationally syndicated "The Weekend w/Joe Pags." He has appeared on many cable news channels taking on all topics and political opponents. The relevant, entertaining and often funny three-hour program can be heard on nearly 300 stations nationwide.
​"Joe's show is the exact blend of politics and humor that we are always searching for on 1210 WPHT. We've been aware of how The Joe Pags Show has been consistently producing a top-notch program and we're excited to bring his wit and unique brand of talk radio to 1210 WPHT. " — Jared Hart, Program Director, Talk-Radio 1210 WPHT
The Joe Pags Show is now in the Seattle Market on KPTR-AM. WOAI-AM, San Antonio-based talk host Joe "Pags" Pagliarulo is now part of the new Seattle news/talker KPTR-AM "1090 The Patriot." Pags' Compass Media Networks-syndicated "The Joe Pags Show" is airing on the new station from 6:00 pm to 9:00 pm.
Joe Pags says, "I am thrilled to bring my show to the great city of Seattle. Being part of this lineup of talk stars is a true privilege. I can't wait to give the people of the Emerald City a place to come to voice their concerns, have some fun, and take part in important dialogue."
Pags grew up listening to talk radio and fell in love with the medium. After several successful years in television, Pags made his way to the radio airwaves to pursue his passion. Today, he brings his common sense, logical approach to the biggest stages in the industry.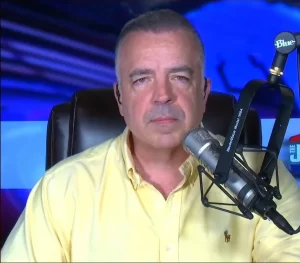 As host of the Premiere Networks-syndicated program The Weekend, Pags offers listeners a refreshing break from traditional talk as he covers a variety of stories and topics that affect Americans – from family, social issues and pop culture, to news headlines, politics and playful debate. The relevant, entertaining and often funny three-hour program can be heard on nearly 300 stations nationwide.
In addition to his national program, Joe Pags can be heard daily on WOAI/San Antonio as host of The Joe Pags Show. He was named by NewsMax as one of the most influential local talk shows in the country, the program airs Monday through Friday from 6 – 9 PM ET.
"I just love this show! Joe Pags finds a way to make me laugh despite all the daily bad news. His parodies are hilarious and his guests are terrific!"
"Top news stories people want to hear about, interesting guests, facts, truth, and truly witty banter with your crew (I smile and chuckle daily) and the best parodies I've ever heard makes this one of my daily podcasts that I wouldn't miss. Thank you, Pags, for everything!"
More praise for Joe Pags!
"Pags, love your show. Your parodies are supreme. I hope you continue to write and sing them. I've been wanting to compliment you on your debating skills. I know this is out of the blue but you are one of the best I've ever listened to and I've listened to many. Thank you for all you do, the teaching, getting the truth to us, giving us hope while making us smile. Thank you again and God bless America, and us."
"I don't know why it took me so long but I just found this show a few weeks ago. I absolutely love it! Great information in a fun and entertaining setting with amazing hosts and guests. I never miss this show now!"
The Joe Pags Show is heard in more than 160 markets including Houston, Boston, Minneapolis, Denver, Portland, St. Louis, Seattle and Indianapolis.
Even with the rise of streaming services and podcasts, radio remains one of the most widely-used mediums around the world. 46% of listeners considered purchasing something after hearing a commercial on the radio.  Call 888-449-2526 today!